In 2018 we published our Strategic Roadmap, a result of 18-months of reflection, exploration, learning and listening. Together, our board of directors and staff worked closely with our grantees, other partners and community representatives to set the general direction for future work. Through this roadmap we are inviting those partners and community members who share our commitment to the well-being of children and their families to work side by side with us to meet the challenges facing Wake County children and their families.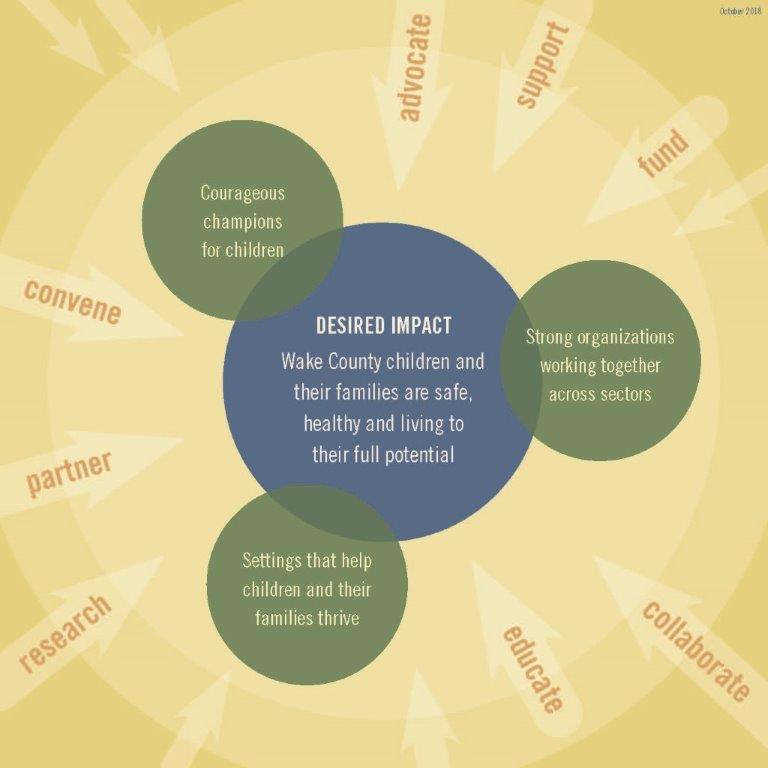 The Strategic Roadmap sets a vision for our efforts that builds upon what we have accomplished over time and what we are still learning. The many and varied efforts will point to our desired impact of ensuring that all Wake County children and their families are safe, healthy and living to their full potential, with a focus on those children who are most vulnerable. It's our belief that if we all put families at the center of our actions and decisions, and that we intentionally and thoughtfully work together, we will reach our ambitious long-term goal.
Our Two Strategic Roles
The foundation has identified its two strategic roles as we pursue our desired impact. One role is to continue to provide capacity building support and resources, and to grow the impact of collaborative efforts that are necessary for community and systems level change. The other is to build upon our expertise and position in the community to be a more actively engaged partner. We will inspire others to join us in being active champions for children.
Our Approaches for Supporting Change

The foundation's core strategy is grantmaking; however, we've learned over time and through our assessment and conversations with the community and nonprofit leaders that we can have significant influence on our desired impact by expanding support beyond grantmaking. As guided by the Strategic Roadmap, we will explore varied opportunities for engagement at three levels; organizations, community and systems. Examples of approaches will include influencing conversations; advocating on behalf of vulnerable children and their families; using communications to amplify the voice of others; providing funding; and strengthening partnerships.
See our Current Funding Opportunities as we explore the social and environmental challenges of our communities.